---
Title: My "woods theater"
Post by: bubsdaddy on August 26, 2005, 08:56:09 pm
---
I posted this info on another forum and a reply to one of my posts brought me here. Last summer i bought an Epson S1+ projector and used it to show movies out in what I consider my back yard. I live in the woods of Michigan. We have a clearing about 50 yards from our house and we had constructed a fire pit with rocks from our creek and then put railroad timbers around it for seating. We set up a shower curtain between two trees and used Yamaha computer speakers and a portable dvd player with the Epson to show the movies. Everyone always had a great time with this really basic setup. I started mulling over what I could do to make the setup better. Here is what I came up with:

I purchased some PVC pipe and connectors from Home Depot - apx $30
I bought a 9 x 12 white painters canvas tarp from Home Depot - apx $18
I bought some plastic aligator grommets - Apx $10
I had some bungees and rope around the house already.
I mounted some Advent outdoor speakers on two trees and hauled an Ebay purchased $20 old 70's style receiver out there.

I made a frame out of the PVC and stretched the canvas over it. I pounded some rebar into the ground and mounted my new screen.

It has worked wonderfully. It is a 4:3 setup but it is so big that even widescreen looks great. I really like the image on the canvas. The colors are deep and the two seams disappear once the movie starts.

Pictures begin in next post.
---
Title: Re: My "woods theater"
Post by: bubsdaddy on August 26, 2005, 08:58:18 pm
---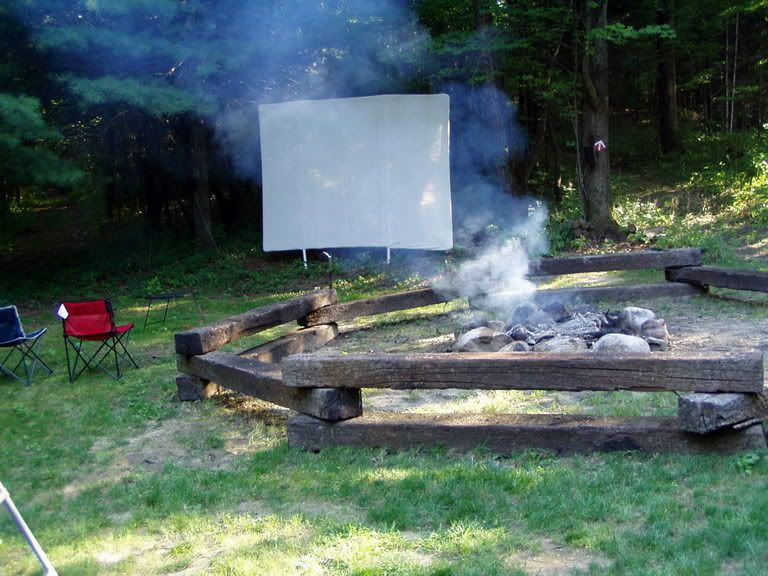 ---
Title: Re: My "woods theater"
Post by: bubsdaddy on August 26, 2005, 08:59:04 pm
---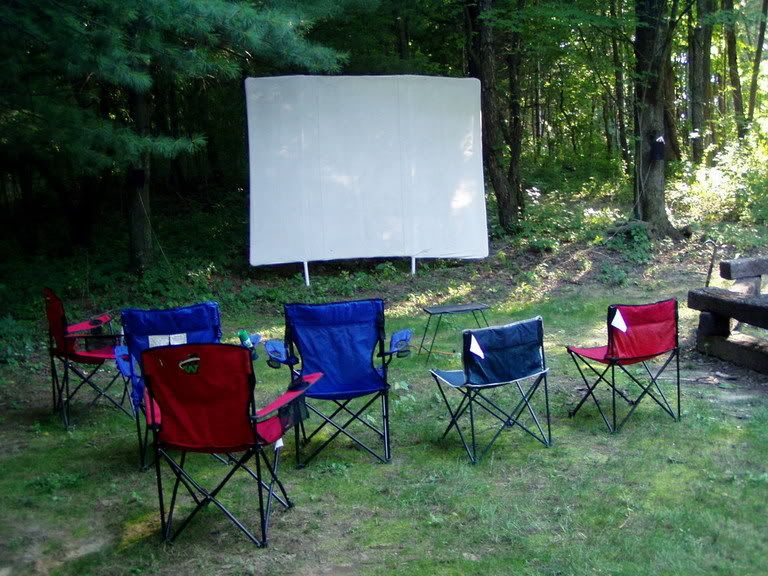 ---
Title: Re: My "woods theater"
Post by: boschrep on September 14, 2005, 02:12:33 pm
---
Man that is cool! I bet horror films are extra scary out in the woods. You could probably not cement the PVC pipe together and make it portable for camping trips.
---
Title: Re: My "woods theater"
Post by: bubsdaddy on September 14, 2005, 07:35:01 pm
---
The screen is located about 100 yards through the woods and down a path from my house. It could be broken down quickly and easily. I had to take the canvas off once and wash it. Took about 30 minutes to put it back together. I'm thinking of color coding the pvc sections so when I take it down for winter it will be easy to put it back up next spring. It is Michigan, after all.